2015-02-25
On February 25, 2015 on the occasion of the 23rd anniversary of Khojaly Genocide conference titled "Khojaly. Genocide and crimes against humanity. Triumph of impunity." was held in Hanoi by the Embassy of Azerbaijan.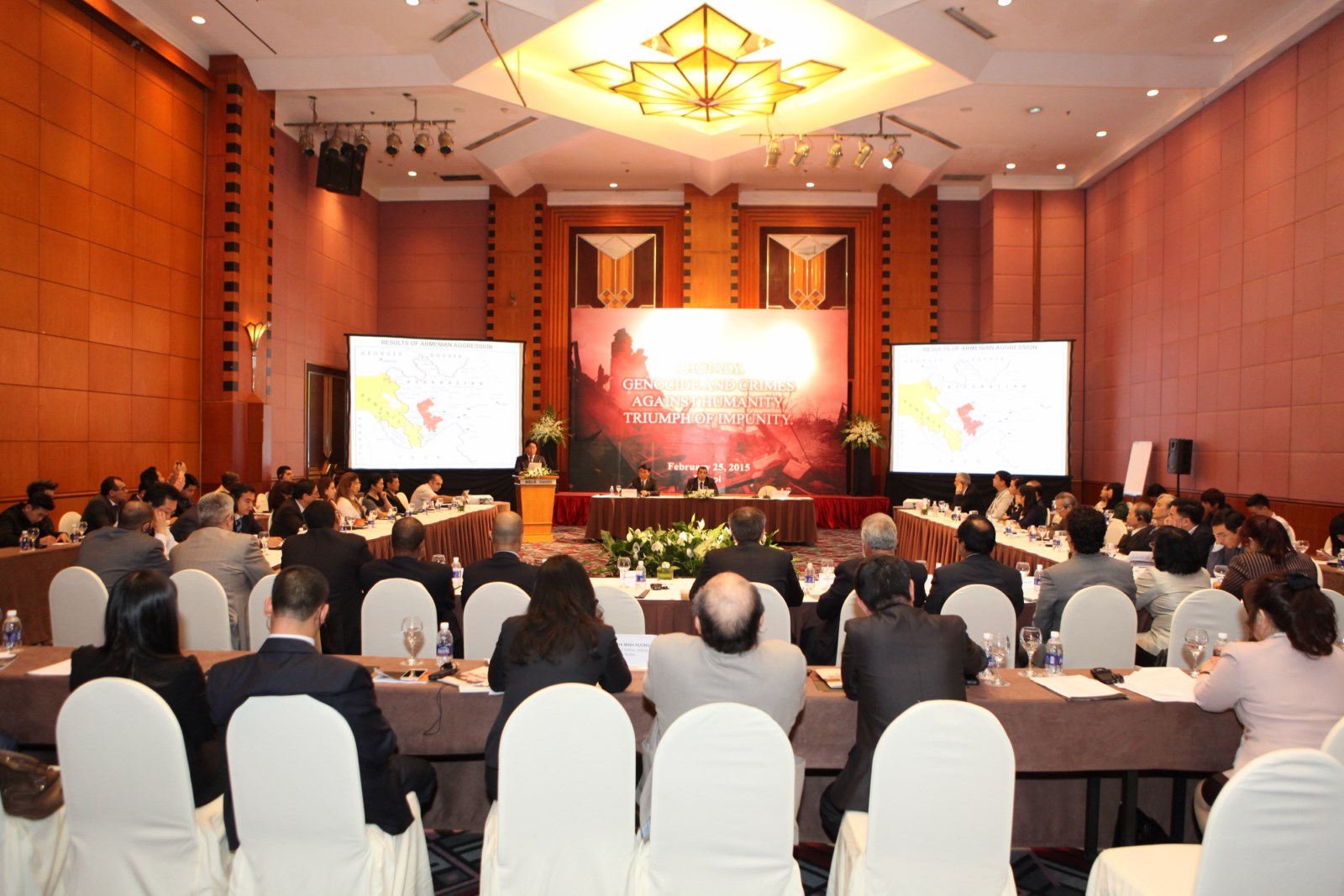 The conference was attended by Prof. Dr. Phan Chi Hieu, Deputy Minister of Justice of Vietnam, Rector of Hanoi Law University, Mr. Tran Dinh Nha, Vice Chairman of National Defense and Security Committee of National Assembly of Vietnam, Prof. Dr. Pham Van Duc, Vice President of Vietnam Academy of Social Sciences, officials of Ministry of Foreign Affairs and Communist Party of Vietnam, young researchers and students of several universities, members of diplomatic corps and media representatives.

In his opening speech H. E. Mr. Anar Imanov, Ambassador of Azerbaijan to Vietnam gave broad information about Khojaly genocide. Mr. Ambassador emphasized that on the Febaruary 26, 1992 Azerbaijani civilians, mostly children, women and elderly people in the Khojaly region were brutally murdered by Armenian armed forces. H. E. Mr. Anar Imanov stressed that Armenian state, especially the current leadership of Armenian government who were directly involved in committing this criminal act are responsible for the Khojaly genocide. Mr. Ambassador emphasized that this criminal act has been proved on the base of independent sources, materials published on international media and witness testimonies. Mr. Ambassador stressed that international community should condemn Khojaly genocide and it should be politically and legally assessed. Otherwise, this would be triumph of impunity and pave the way analogous crimes in the different regions of the world in future.

After the speech video about Khojaly genocide was displayed and attendees observed one minute silence in the memory of Khojaly victims.

In the conference Mr. Tran Dinh Nha, Vice Chairman of National Defense and Security Committee of National Assembly of Vietnam, H. E. Mr. Ahmet Akif Oktay, Ambassador of Turkey to Vietnam, Dr. Nghiem Vu Khai, Chairman of Association of Vietnamese Graduates of Azerbaijan Universities, former Deputy Minister of Science and Technology of Vietnam, Dr. Nguyen Kim Ngan, Vice Chairman of International Law Faculty of Hanoi Law University, Dr. Dao Thi Minh Huong, Deputy Director of Institute of Human Studies, Ms. Phuong Thao Tran Thi young researcher, student of Hanoi University, one of the winners of esse competition on Azerbaijan delivered speeches.

Speakers condemned Khojaly massacre and emphasized the importance of bringing perpetrators into account.

In the conference there were presentations of Khojaly Genocide book in Vietnamese and www.khojaly.vn in two languages - Vietnamese and English. The book as well as the website consists of the information about the history of Khojaly genocide, evidence from independent sources, forensic medical examination, witness testimonies and photos of victims.

During the event photo exhibition of Khojaly genocide was held, books and brochures about the tragedy were distributed to the attendees.