2015-06-02
Ambassador of Azerbaijan to Vietnam delivered lecture on "Modern history of Azerbaijan: challenges and achievements" at Institute of Human Studies of Vietnam Academy of Social Sciences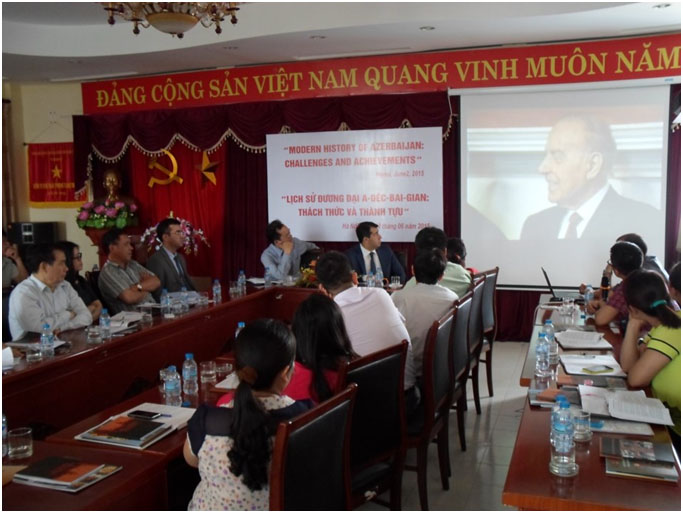 On June 2, 2015 H. E. Mr. Anar Imanov, Ambassador of Azerbaijan to Vietnam delivered lecture on "Modern history of Azerbaijan: challenges and achievements" at Institute of Human Studies of Vietnam Academy of Social Sciences. The directorate, scientists, young researchers of Institute of Human Studies and Institute of European Studies attended the event.
H. E. Mr. Anar Imanov, in his lecture gave broad information about the national independent movement of Azerbaijani people, 20 January tragedy, the restoration of state independence of Azerbaijan, Armenia-Azerbaijan Nagorno Karabakh conflict, Khojaly genocide, the role of national leader of Azerbaijani people Heydar Aliyev in founding modern statehood, social-economic development of Azerbaijan, the successful continuation of this policy by the current President Ilham Aliyev.
Mr. Ambassador, talked about the energy and infrastructure projects which is being implemented with the participation of Azerbaijan, such as Baku-Tbilisi-Jeyhan oil pipeline, Baku-Tbilisi-Arzurum gas pipeline, Baku-Tbilisi-Kars railway line and other projects that contributes to the development of the region, as well as to the energy security of Europe. Mr. Anar Imanov emphasized that the position of Azerbaijan in the international arena is being strengthened; in this regard Ambassador underscored the election of Azerbaijan as a non permanent member to the UN Security Council on 2012-2013. Mr. Ambassador stressed that Azerbaijan hosts prestigious international events and on June 12-28 Azerbaijan will host first ever European Games.
Besides, Mr. Anar Imanov talked about the relations between Azerbaijan and Vietnam, and stressed that bilateral relations in political, economic, humanitarian spheres is being developed. Mr. Ambassador emphasized that the exchange of visits of the Presidents of Azerbaijan and Vietnam in the last one year contributed to the development cooperation between the two countries.
During the lecture different videos about the modern history of Azerbaijan as well as about the first European games were displayed. Afterward, Ambassador answered the questions of event attendees. In the event different books published into Vietnamese by the Embassy were presented to the attendees.